Who We Are...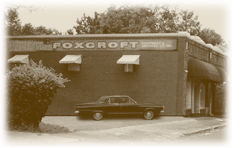 Foxcroft Equipment and Service Co. Inc. manufactures its online analytical instrumentation and gas detectors for the water and wastewater industries in Glenmoore, PA USA.

Foxcroft was founded in 1963 as a sales and service company to the potable water and wastewater markets for a major chlorination equipment manufacturer.
In 1980 we began to design, engineer and manufacture amperometric chlorine analyzers, gas flow control valves and set point controllers. In 1995 we began to produce toxic gas getectors and related chlorination equipment. Reagentless modular online fluoride, ammonium, pH and other instruments were later added to the product line.
Our standard products can also be customized to suit your requirement.
Foxcroft has alway been known as a service oriented company that designs and manufactures instrumentation that is rugged and reliable.
Surveying the market, tech support cases and feedback from operators of a variety equipment, we turned our focus to ease of use in order to reduce operator error and increase productivity. After two years of development and testing we introduced the most user friendly interface available on the market. Many have said our touch screen interface instruments don't require a manual to operate.
All products are manufactured and assembled in our facility in Glenmoore, PA. We use American made components and materials wherever possible; our circuit boards are made and assembled in the US.
Foxcroft products are installed worldwide. Primary customers are large and small municipal water and wastewater systems as well as rural water systems. Industrial markets include food and beverage processing, produce, poultry and meat processing, hospitality and industrial manufacturers using chlorine or fluoride in their production processes.