Model FX-CLO Reagentless Ozone Analyzer
Amperometric for Continuous Monitoring and Control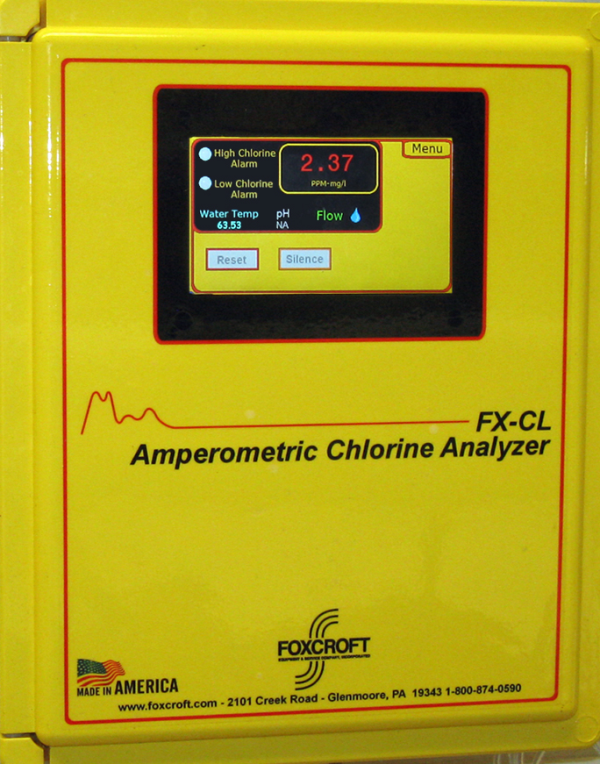 The Foxcroft FX-CL-O amperometric reagentless dissolved Ozone analyzer provides continuous online measurements in drinking water disinfection, food processing, bottling operations, and clean in place (CIP) processes containing chemicals and detergents.
Available with two types of membrane covered 2-electrode sensors: one for clean, filtered drinking quality water; and another impervious to chemicals and cleaning agents in industrial process water.
The 4.3" full color glass touch screen is rated for a minimum 1 million touches on one point and simplifies calibration and configuration. It displays residual in mg/L (PPM), high / low disinfectant alarm indication, flow status or alarm, and processor status.
The feature packed RoHs compliant electronics platform provides expansion capability that can grow with your needs.
FEATURES:
No zero point calibration

Measuring ranges: 0-0.5; 0-2; 0-5; 0-10 mg/L (ppm) between the two sensor options


(1) 4-20mA output


(3) 1A form C relay outputs for high/low alarms & optional No Flow alarm.


Low maintenance with no moving parts


Microprocessor based electronics, software/firmware flash upgradeable, settings stored in non-volatile memory