FX-300 Inline Reagentless Ammonium Analyzer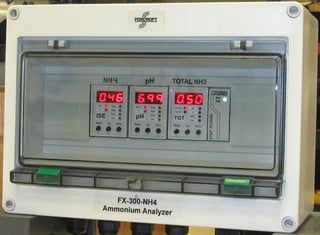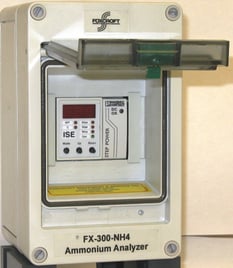 The Foxcroft FX-300-NH4 inline reagentless Ammonium analyzer uses proprietary ion selective electrode technology to monitor and control in real time Ammonium (NH4+) used in drinking water chloramine production, boosting and select locations in the wastewater treatment process.
The unique membrane and reference system avoids the need for interfering ion compensation using a second ion sensor. The industrial duty maintenance free combination sensor directly measures ammonium ion (NH4+) in water without converting ammonium to NH3 gas.

pH compensation is available to calculate the gaseous form of ammonia NH3 present in samples above pH 7.

The sensor can measure ammonium in the presence of 20 to 30 ppm potassium ions while maintaining linearity and stability under the most common conditions found in secondary wastewater treatment.
Municipal drinking water measurement range: 0.5 ppm to 999 ppm. Municipal wastewater measurement range: 1 ppm to 999 ppm depending on other solution constituents.
Inquiries are handled on a case by case basis to ensure suitability for your process.
The modular design gives you the flexibility to configure the FX-300 as a simple transmitter, or a multiparameter analyzer controller for any combination of measurements and functions such as ammonium, pH, conductivity, ORP, or other ion measurements in one enclosure.