FX-300 pH/ORP Transmitter, Analyzer, Controller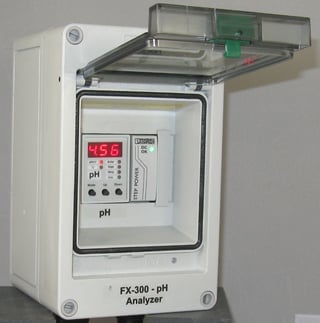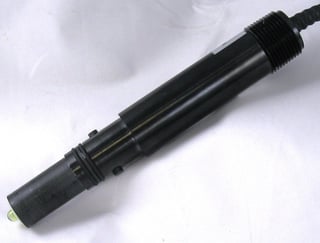 The Foxcroft FX-300 pH/ORP transmitter / analyzer is a modular system with heavy duty industrial grade sensors engineered for applications ranging from general purpose drinking water to harsh chemical resistance and high or low temperature service.
Modular electronics allow you to specify a single channel transmitter only, a monitor with temperature transmission, alarm contacts and control functions; or a multi-parameter analyzer with any combination of pH, ORP, conductivity or ion selective (ISE) sensor inputs all in one enclosure.
Regardless of the application, all sensors are industrial, not laboratory grade instruments. Unique solid state reference system and pH glasses are available to resists chemical fouling, breakage and dehydration. Double junction sensors are standard, triple junction is available optionally.
Featuring Application Engineered pH Sensors:
Municipal Drinking Water: Proprietary material offers true fluoride resistance; solid state replacement probes for most transmitters.
Industrial & Municipal Wastewater: Systems specifically for municipal and industrial waste processing streams, break resistant, acid, base, fluoride, sulfide resistance.
Food, Beverage and Dairy processing: Solid state sensors for hot tap installations up to 41" insertion depth, sanitary CIP applications and temperatures from -30℃ to 150℃, with dehydration resistant reference and heavy wall crack resistant pH glass.
Tough Applications: mining, slurries, organic solvents, temperature to 150℃, pressure to 150 PSI, resistance to chlorine gas, chlorine dioxide, acid, HF, saturated sodium, sulfide and cyanide. Also for pH processes that require a solution ground.
Environmental Monitoring of pH, conductivity, DO
Extreme Dehydration Resistant pH Sensors