Model FX-CLF Reagentless Amperometric Free Chlorine Analyzer


The Foxcroft FX-CLF amperometric reagentless chlorine residual analyzer provides continuous online free chlorine measurement to monitor or control in a variety of applications that have water with filtered drinking or swimming pool quality.
No reagents, low maintenance and low power consumption make the FX-CLF ideal for chlorine monitoring in remote locations.
The standard 3-electrode sensor measures free chlorine as HOCL and may be used in filtered water between 4-9 pH. The electrolyte provides a reduced dependence on pH. Most installations do not need pH compensation.

2-Electrode sensors for pH 7.5 or below are also available in ranges up to 200 ppm free chlorine.
The 4.3" full color glass LCD touch screen display and interface is rated for a minimum 1 million touches.

For installations without a drain, the sample can be recycled back into the process line if regulations allow since no chemicals are added.

Designed to operate 24/7, it's also suitable for intermittent operation at well sites and booster stations that only operate several hours each day, or if you simply need to conserve water. Tolerates zero chlorine for up to 24 hours.
Iron and manganese levels must not exceed National Secondary Drinking Water Standards to avoid disrupting 3-electrode sensor operation.
If your water leaves deposits like this, or if corrosion inhibitors are used, we suggest the FX-CLv2 bare electrode model. Membrane covered chlorine sensors simply cannot work in this type of water without extensive cleaning and or pretreatment.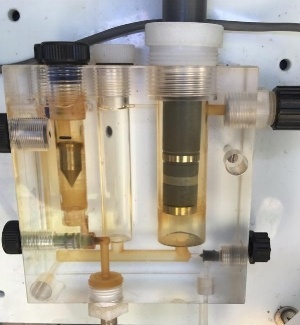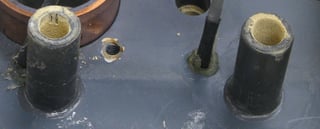 FEATURES:
No zero point calibration

Measuring ranges: 0.05-0.5; 0.05-2; 0.05-5; 0.05-10 mg/L (ppm)


High ranges available: 0.05-20, 0.05-50, 0.05-100, 0.05-200 mg/L (ppm)

(1) 4-20mA output, diode protected against over voltage


(2) 1A SPDT form C relay outputs for high/low chlorine alarms.


Available on an optional flow panel for simple installation.