Calibration Gases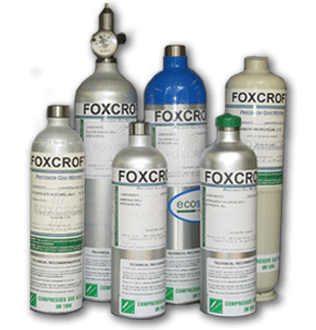 A certified target calibration gas is the only safe and approved way to test your toxic gas detector.
These cost effective cylinders are filled with certified precision gas mixtures for calibration and response check "bump testing" of gas leak detectors or research instrumentation.
Gas detector calibration is not the place to cut corners. Please consider:
"Home made" chlorine gas is uncontrollable as well as dangerous.
The high concentration of chlorine in a 150 lb process cylinder is lethal to both personnel and equipment. Using it to calibrate is dangerous and would overload a gas sensor, preventing it from alarming in an emergency.
Unknown concentrations such as from solid forms of chlorine cannot calibrate a detector to its existing factory settings.
The potential liability of disregarding safety guidelines and using unapproved calibration procedures.
The cost of an overloaded gas sensor or damage to other equipment exceeds the cost of calibration gas.
Our Standard Calibration Gases below are available in a variety of concentrations and are traceable to NIST standards by weight.
Gas Type Available: Ammonia, Carbon Monoxide, Chlorine, Hydrogen, Hydrogen Chloride,
Hydrogen Cyanide, Hydrogen Sulphide, Nitric Oxide, Nitrogen Dioxide, Oxygen, Sulphur Dioxide, Zero Gas
Cylinder sizes available are 15, 34, 58, and 103 liters. Not all gases are available in every cylinder size.
To download a PDF of this product specification sheet click HERE