FX-USB Data Loggers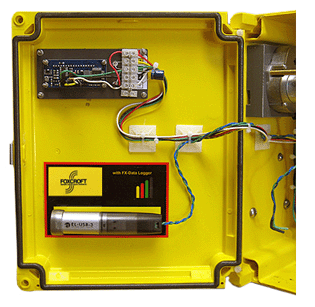 This compact USB interface data logger records the output of your chlorine analyzer, gas leak detector, or any instrument.
Available as a stand alone unit or in a wall mount enclosure; it's also perfect for troubleshooting equipment on a temporary basis, take it with you from site to site.
Includes Windows compatible configuration and graphing software.
(Shown Mounted In FX-1000P Analyzer)
Product Features:
0-30 V DC Input Measurement Range FXUSB3
4-20mA Current Loop Input Measuring range FX-USB4
Stores 32,510 readings
Connection via two screw terminals
USB Interface for Set-up and Data Download, Simply Remove and Plug into your computer's USB Port
User-Programmable Alarm Thresholds
Red and Green LED Status Indication
Replaceable Internal Lithium Battery
Does not lose stored readings when battery is discharged or replaced
To download a PDF of this product specification sheet click HERE