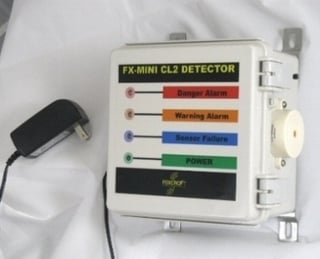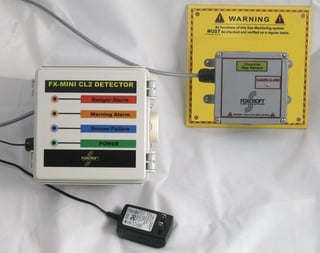 The Foxcroft FX-Mini is the latest digital version of our popular all-in-one FX-1 fixed point toxic and chlorine gas leak detectors. It's available in two styles:

Model FX-Mini - Compact, all-in-one single enclosure
Model FX-Mini-R - Remote controller mounts in a safe area while the local sensor enclosure is placed in the hazard area
It's designed for those who want reliable gas detection with only basic alarm notification: LED indicators, audible alarm and relay output; but don't need a 4-20mA output or concentration display.
This microprocessor controlled unit in a compact 6" x 6" wall mount enclosure alerts you to low PPM levels of toxic gas or low oxygen levels in ambient air. Everything you need is included; no additional sensor, transmitter, controller or power supply is required.
The FX-Mini can also be powered by 50 AH 12VDC battery in remote locations without electric service.
Ideal for:
Remote Well Sites
Unmanned Storage Facilities
Small Municipal Water Systems
Limited Budgets
Remote monitoring systems without 4-20mA input
Sound design reduces the labor cost needed to produce an economy yet high quality product in the USA. List price for FX-Mini chlorine is $850.00, the FX-Mini-R chlorine lists for $1,021.00.

The analog Model FX-1 has been discontinued and will no longer be manufactured.
Standard Features:
Uses the same rugged high quality elecrochemical gas sensors proven for over 20 years

Two Fixed Alarm Levels - Warning & Danger


Sensor Fail Alarm

(4) 10A form C alarm relays for contact input to phone dialers, SCADA, external alarm devices and equipment.

Color coded LED alarm indicators with Power on LED indicator

100 dB integral alarm buzzer

Dual function Silence / Reset button

Terminal for remote reset button

NEMA 4X plastic enclosure with wall mount feet, hinged for easy sensor service.

Universal AC input 12VDC power supply with 4-ft cord included, or operate with 12VDC battery power in remote locations without electric service. Note: Ammonia operates on included 24VDC power supply.


Fast, easy installation

Low maintenance

Field replaceable microprocessor
Gas Sensors Available
| | | | |
| --- | --- | --- | --- |
| Chlorine CL2 | 0-10 ppm | Hydrogen Sulfide H2S | 0-10 ppm |
| Sulfur Dioxide SO2 | 0-10 ppm | Nitric Oxide NO | 0-50 ppm |
| Chlorine Dioxide CLO2 | 0-1 ppm | Nitrogen Dioxide NO2 | 0-10 ppm |
| Oxygen O2 | 0-25% | Hydrogen Chloride HCI | 0-10 ppm |
| Carbon Monoxide CO | 0-500 ppm | Ammonia NH3 | 0-100 ppm |
Other gas operating ranges and non-standard alarm levels are available