The Foxcroft FX-1500v4 is the easiest toxic gas detector to install and use on the market.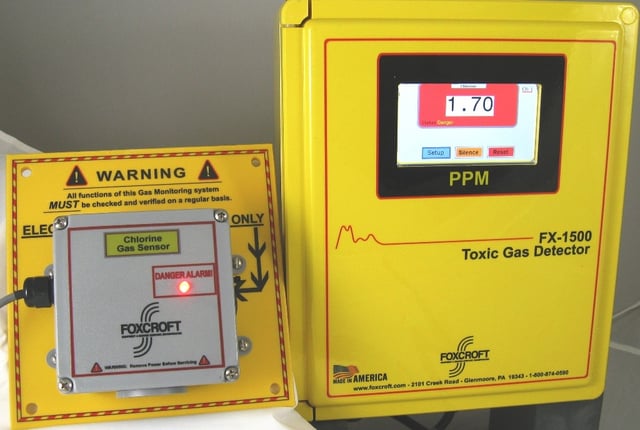 Unlike other types, there is no disassembly needed for commissioning, no code numbers to look up, no DIP switches or jumpers to set. Simply tap the buttons on the glass touch screen interface to configure the relays and use the detector.
Sound design and high quality components deliver the ease of use, dependability and long service life you need in a personal safety device.
The single sensor unit features a remote display that mounts in a safe area; and a long life low maintenance electrochemical gas sensor in wall mount housing with local danger alarm LED.
Warning and Danger alarm levels are set to OSHA and NIOSH recommendations. A third low level alarm alerts personnel to slow leaks before they become a major problem. A fourth Sensor Fail alarm level indicates faults with the sensor or the sensor circuitry.
The high visibility 1" x 1.75" minimum status field is color coded to each alarm level and also includes a text description of alarm status.
An optional battery backup/surge protector is also available for applications where AC power is unreliable, or must be maintained in the event of a power failure.
For 2-sensor models Click Here for the FX-1502v4
Product Features:
On screen configuration

4 Alarm Levels: Caution, Warning, Danger, Sensor Fail

(4) 10A form C relays

4.3" Full color glass touch screen interface

100 dB piezo buzzer audible alarm notification

Universal AC voltage input and fused power entry module

24VDC electronics permit battery powered operation in remote locations

Available with 12 different gas sensors

4-20 mA retransmission output is standard

Sensor life screen
To download a brochure with specifications click

HERE