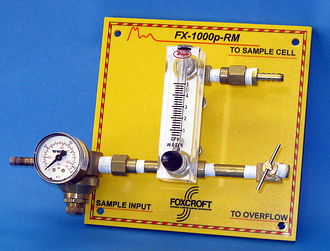 Occasionally we encounter flow reduction or blockage in chlorine analyzers monitoring certain groundwater sources.
We examined this problem at a well station in our area that chlorinates and monitors ground water. The water drawn from the sample tap, unlike aerated "white water", was initially clear with some microbubbles of dissolved oxygen or gases.
These microbubbles decompressed and expanded into clusters of larger bubbles to restrict the orifice in the analyzer flow cell. The blockage would trigger a low chlorine alarm and require extra attention from the operators to remain in compliance.
In our research we found that bubble traps or bubble eliminators can provide mixed results in some applications; so we decided to prevent bubbles from developing within the analyzer.
Our FX-1000P Rotometer keeps the sample pressurized through the flow cell orifice until it reaches the measuring cell. Since the residual is determined almost instantly, the sample overflows to waste before bubbles have time to enlarge and cause problems.
The controlled flow also eliminates the need to recalibrate due to flow rate changes, which simplifies consistent, accurate chlorine residual measurement. It's easy to install and includes a pressure regulator with gauge.